---
We know that we aren't the biggest, but we definitely want to be one of the best! That's why Suri Sueños offers the following advantages to anyone who purchases or partners with us!
With every alpaca purchase receive:
Zephyr Farms halter and lead: we believe in these halters and in the Camelidynamics training - it's the perfect start - you can also rest assured that your new animals have been handled with respect and kindness using the popular techniques taught by Marty McGee Bennett
Free breeding or re-breeding to any of our fine herdsires included with all female purchases
Fertility and Live Birth Guarantees
Complimentary Membership to The Suri Network
Complimentary bag of high-quality grain and recommendations on continuing with a healthy and nutritious plan for your animal(s)
If you plan on agisting, we can offer a customized plan that works for your needs
Our promise of on-going support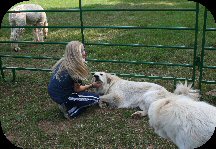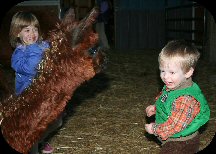 Suri Sueños llc, 810 Short Lane, Stevens Point, Wisconsin 54481
(715) 347-7979
Other services available:
Agisting Services to Meet Your Needs
Customized Financing
Personalized Start-up Assistance
Discounts on Multiple Purchases
Business Plan Assistance
Website Design/Assistance
Orchard Grass Hay When Available
Great Pyrenees Pups When Available!
With every breeding purchase receive:
Our 10-Day Live-Birth Guarantee
Our Suri Guarantee ~ as Suri breeders, we know that when paying for an expensive breeding, it's an investment in your future ~ we are confident enough in our fine Suris to offer a Suri-only guarantee; if your bred Suri yields a Huacaya birth, get a free breed-back
Free 60 days boarding for your dam (and her cria) - top quality care and attention while they are with us
In all things, we believe that integrity and honesty are the most important values in life. You can always count on us to be fair and honest in our business and our lives.
New! We now include a free great pyr pup with any alpaca or multiple breeding purchase! (As available / if desired)